One of the most liberating aspects of trail running is that it does not conform to the universal uniformity of the track. Each venue presents distinct surfaces, seasons, difficulties, and distances. Due to the diversity of courses, conditions, and challenges it is impossible to select a "favorite" race.
While relatively new to the trail running world, each of the races I have done have become a favorite of sorts for various reasons. Rather than delve into great detail about just one, I'd like to talk about how each race can be a favorite in its own right - which is one of the most appealing parts of trail running – you don't have to only like the sites where you win races or set PRs, but you can even like the places where you fail miserably.
To understand this unique trait of trail running, it is important to identify criteria for what makes a great race. I approach this task with first-hand knowledge as not only a trail runner, but as a coach, race director, and volunteer.
So what makes a great trail race?
LOCALE:
Is it in the perfect location with unparalleled vistas? Is it a destination race or a local one?
NOVELTY:
Does the race bring prestige or recognition? Is it unique? Does it make you feel accomplished or is it simply a check off the box before the weekend yard work begins?
BENEFIT:
Does it benefit a good cause? If so, how much of the proceeds go toward the cause? Does that matter?
COMPETITION:
Does it attract the best competition, just enough to keep you honest, or is it so off the beaten path that you run alone and are the uncontested age group and/or overall victor?
FIELD SIZE:
Are there a lot of people or is it your own little private run? What do you prefer?
AWARDS & PRIZES:
Are there great prizes? Are they valuable? Are they unique or distinctive? Do you like the shirts, medals, socks, or buckles?
SPONSORS:
Are there lots of sponsors – local, national, or global? Do they make the event better? How?
AID STATIONS:
What do they serve at the aid stations (standard fare – water, Sports Drink, and gels or chews, or does each serve up a banquet of anti-bonking aids – PB&J, bananas, orange slices, salt, salt pills, potatoes, soda, licorice, gummy bears, sausage links, etc.)? At what intervals is aid located along the trail? Do they offer drinks in cups or must you BYOB (bring your own bottle)?
MARKINGS:
Is the course well marked or should you bring your own GPS and map? How is it marked? Is it environmentally friendly marking? Do you care one way or another? Is it possible to preview the course in training prior to race-day?
VOLUNTEERS:
Are there enough volunteers on the course? Are they helpful? Do they know what is going on? Do they know the course and do they have some understanding of the sport? Are volunteering opportunities available at the event?
CHALLENGE:
Is it challenging and slow or fast and easy? Is it a PR course, or do all times go out the window?
AESTHETICS:
Do you like the webpage, advertisements, race logo, t-shirt, medals, beanies, or buckles?
SEASON:
Is it at an ideal time of year? What is the weather generally like? Cool? Hot? Rainy? Sunny? Windy?
POST RACE:
What is available after the race? Food? Music? Friends? Family?
COST:
Is it affordable? Do you get what you pay for or more? Where does the money go?
FOOTING:
Does it have the right type of footing? Are the trails wide or narrow? Packed, muddy, slick, rocky, or sloppy? Is there pavement anywhere on the course? Is this good or bad? Are there steep climbs and switch backs or small rollers?
LODGING:
Are there ample sites (parking lots, camp sites, hotels, etc.) for sleeping before or after your race?
In reality, these are just a few of the many considerations we make when determining what makes a race great or how to make a great event. Now I'd like to tell you about a few of my favorite events and explain how they are each my favorite in one way or another.
FIRST ULTRA:
Hagg Lake 50K
in Gaston, OR was my first attempt at a distance over 26.2 miles and was my first time running for more than 3 hours. It was challenging, intimidating, discouraging, frustrating, and inspiring all in one race. The race directors are very well organized and the course is pretty simple – short out and back followed by two loops around a muddy lake primarily on single track. I liked this race 1) because I realized I was capable of doing something I had never before done, 2) because I met some good people with whom I shared a few hours on the trails, 3) because the post-race meal (chicken-noodle soup) was incredibly satisfying, 4) because it introduced me to and got me hooked on trail running, 5) because it wasn't too far from home, and 6) because it was super well organized and the race directors take care of all of the athletes.
MOST CHALLENGING:
Chuckanut 50K
in Bellingham, WA was by far the most challenging race I've ever done. Not only did several of the country's best trail runners show up, the course climbs and climbs through technical terrain before dropping so abruptly that it is hard to stay upright on fatigued legs. I bonked pretty hard and struggled home in my slowest time for a 50K. That said, I enjoyed running with and meeting some of the legendary pioneers in the sport (for a few miles).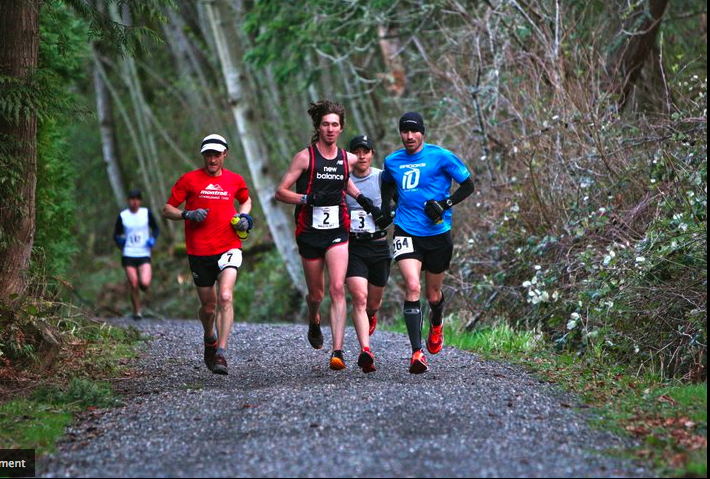 Chase pack at 2011 Chuckanut 50K
I also liked the post-race spread and the natural low-key atmosphere. I'd do it again because of the challenging terrain, the great competition, awesome trail and scenery, and because I failed on my first attempt and want another stab at it. This year will be the 20th anniversary for the event and the 200 participant cap got shifted to 1000. The purse has also grown over the years which has attracted a rather strong contingent of trail runner specialists from XC, Mtn., road, 21K-50K, and 50K-100M. For a complete list of competitors please see list at
UltrasignUp
. It should be exciting to see the outcome. Stay tuned for a more specific race preview in the next week.
GREAT GETAWAY:
The
Flagline 50K
in Bend, OR was close enough to home that I was able to make a few short trips to preview the course in the months leading up to the race. I ran this one because it was close to home (4 hours) and it was the U.S. Trail 50K Championships for 2010 & 2011. Some of the highlights of the event were the pine-needled softened trails and great aid stations. The high altitude and rolling terrain added to the challenge and appeal. The salmon tacos and black beans after the race further solidified the race as a great event. Top that off with the local legends Max King and Ryan Bak to lead the way and you've got a formidable trail fest.
Start of the Flagline 50K (2011 USATF 50K Championships)
MOST SCENIC:
The
XTERRA World Trail Championship
s
in Ka'a'awa, Hawaii is by far the most scenic trail run I've done. The roughly 14 mile course traverses through the Koolauloa Range along Oahu's North Shore, specifically through Koaloa Ranch which has been used for filming in several major productions including Jurassic Park, 50 First Dates, and Lost. The most appealing part of the race, by far, is the setting. I graduated from and ran for a small DII university, Brigham Young Unviersity-Hawaii, not far from the course and loved waking up each morning to run in the mountains. Any time I can get back and enjoy the terrain I take it. This course served up its own set of challenges. Due to the shorter course, the pace was much faster than most trail runs I've done. Four-time National and World XTERRA and Mtn. Running Champion, Max King, was pulled out for the first few minutes by fellow steeplechaser Ben Bruce. The rest of us were left in a cloud of dust as we ascended and descended some pretty gnarly terrain before returning to the valley for the finish. The highlight of this race was the 70* temps in December and the chance to cool down in the ocean after the race. While it was hard to jump off a plane and then jump right back on, the warmth and beauty of the island and ocean made the trip well worth it.
Start of XTERRA World Trail Running Championships
LOCAL FAVORITES:
Due to the sense of community that one feels and experiences as a trail runner, I enjoy some of the small local races I help organize just as much as some of the larger more competitive races in which I've participated. One of these races, the
Columbia River Power Marathon
, is actually a full marathon that starts in Oregon, crosses the Columbia River via a hydroelectric dam into Washington, returns to Oregon after running through a tunnel and crossing a bridge and then runs 10 miles on trail along the Columbia River. While some may not call this a true "trail" run because only about half of the course is unpaved, it is certainly scenic, rugged, and unique. The race is run in October so the weather is usually perfect and the trail is relatively packed for the full marathon.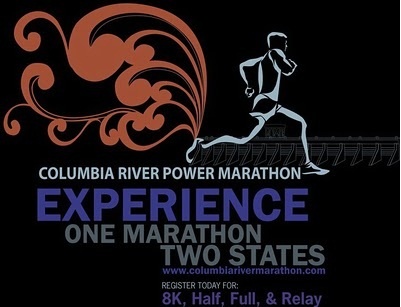 In the summer we use the same Lewis & Clark Trail along the Columbia River for the
Columbia Corridor Corredores Trail Runs
(10 mile, 25K, and 25K relay). The weather is quite different and we start pretty early to avoid the heat and other critters that like the sun. The race starts and finishes at a shaded park with great picnic areas and a roped off swimming area for participants and their families to enjoy the beach. My favorite part of both of these events is that they both benefit the
Hermiston Cross Country Program
, which I help coach. The funds help run the middle school programs which were cut with the first round of program cuts and also help many of the athletes replace shoes, attend camps, and travel to competitions throughout the year.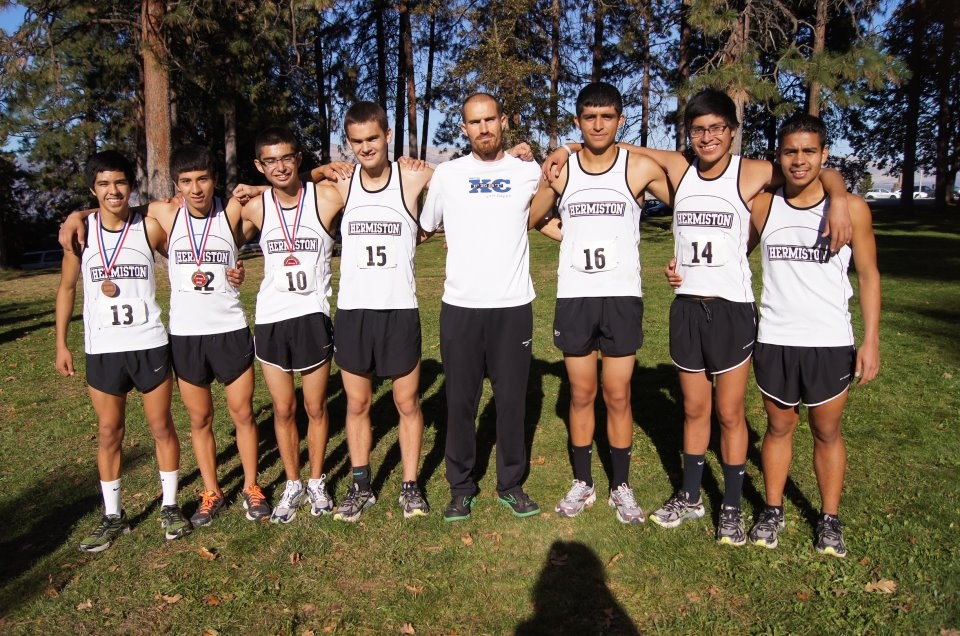 2011 Columbia River Conference Champions, 2nd @ Oregon State Meet
These are just a few of the myriad trail runs out there. As the sport grows in popularity more and more trail runs seem to pop up. So find the next trail race in your area and sign up to either run or volunteer. If there isn't one near you, start one.